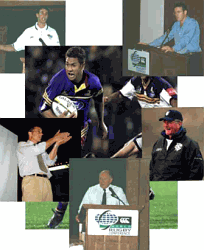 The World Rugby Conference is truly the ultimate rugby conference.
Featuring the worlds most acclaimed rugby minds, the conference will be held in Lake Placid, York on August 1st and 2nd.
Learn cutting edge tips on offensive and defensive strategies, training and nutrition, and law interpretations.
Held in conjunction with North Americas largest rugby tournament--the Saranac Lake Can-Am Tournament, it is an ideal time to visit the Adirondack region of New York.